a FREE modification for Battlefield 1942 · Battlefield:Vietnam · Battlefield 2
Work in progress
06/20/2012 by Lotte.EoD-1
So if anyone thought we're sleeping, let me say you are wrong.
A handfull of dev's still is alive and kicking and playing the good old game, the mother of all battles


While browsing some old websites I found this news-thread (2003) on BF-Games.net and remembered how I liked this Cessna L-19/O-1 picture.
Unfortunately the plane newer was released and so ike became the job for v2.50



For a long time we didn't hear anything from Sgt. Killboy formerly known as Steve of Destruction.

Of course we couldn't hear anything cause he was working very hard and concentrated.
That's about the size of it


Here some renders what he did in the last months...



Wow, looking very awesome.



Again...



...hand- and selfmade Vietcong weapons...



...are bad for the enemies too...



...are they?...



This is the VC-Blooper

A shotgun...



...and a pistol to say 'here I am, come get some'!



Some steel to find a way through the jungle...



... and if this doesn't suffice take this one...



...or the bayonett!



A way to cross the rivers...



...and roads


Finally we have a render of all these weapons and some more that is still in work.
Good job men!

(
)
Graphics deceleration - Operation Kingpin
06/07/2012 by Lotte.EoD-1
We all know about some maps with horrible graphics lag.

One of it is Operation Kingpin. We've not been very happy with this map though there have been several improvements in the past.
Players with low budget computers and laptop owners couldn't play the map cause of gruesome FPS.

So we've decided to overwork this map and started a thread in the forums.
You may post any map with graphics lag here.

The new Operation Kingpin should do it fine now
(
)
No Where To Run
05/21/2012 by Lotte.EoD-1
Here's another new map for the coming build v2.50.
It's called 'No Where To Run' and has some ideas from the community in it.
More detailed pictures in our missions section!

It's the first map where bots use the ropebridges really good.


(
)
Frontier
05/13/2012 by Lotte.EoD-1
Wow !
This map is looking awesome.
Jackson has finished the work on map 'Frontier' and the result is really nice.

Frontier will be released with v2.50.
When it's done
(
)
The making of a map
05/12/2012 by Lotte.EoD-1
A new map is under construction and this time the community will have an important role.
Feel free to post any idea to our forums in this thread: community map.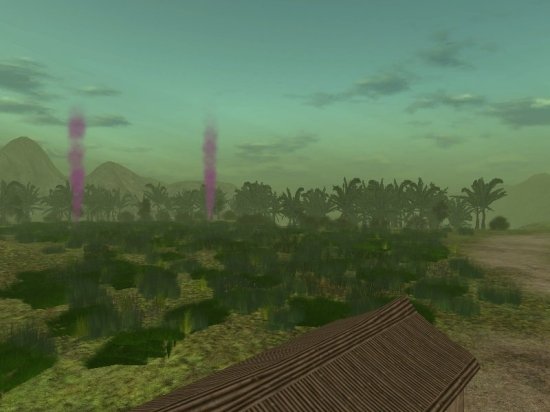 (
)
EoD heritage
05/10/2012 by TrahnLeeLiao.EoD-2
For those who do not know... Project Reality, has finally released the Vietnam version of Project Reality... PR-V for Battlefield 2.

PR-V uses alot of the content and stuff from Eve of Destruction for BF2 as a basis for the mod.
There are many, many upgrades and fixes for tons of stuff. Several new maps and new game modes as well.

Project Reality Website


(
)
Hidden Lake Valley - ...and action...
04/08/2012 by Lotte.EoD-1
Some action at Hidden Lake Valley.
Recorded on April 7th, 2012 at hslan server.




The same video in a short cartoon version
(
)
Eve of Destruction 3 release
04/01/2012 by Lotte.EoD-2

Yes, it's true!
We've finished the secret work on EoD-3 and Trahn Lee has uploaded the files.
Click here to play EoD-3 now!

Of course this was an april fool's joke
(
)
EoD 2.50 preview - exploding barrels
03/18/2012 by Lotte.EoD-1
A new dirty trick for v2.50
(
)
Alone in my prison reloaded
02/29/2012 by Lotte.EoD-1
njoy!




(
)